On Wednesday, 8th March 2017 at DMX Dublin, I helped run a Mixed Reality tour (360 photo interlaced with video hotspots) of INM's print plant in Dublin's Citywest campus, segueing to a tour of the digital news room in Independent House. It was a brilliant execution that was created in partnership with Nick Polley and the good folk at 3D Design Bureau. The queues that formed at the stand at each break were a testament to the draw of a well-executed VR experience, and the general buzz around VR. But are brands ready and willing to take the plunge into advertising through VR?

No, not yet I'm afraid. Sorry to have to be the one to inform you. To cheer you up, here's a semi-dressed wrestler trying out the MR experience. He looks pleased with himself.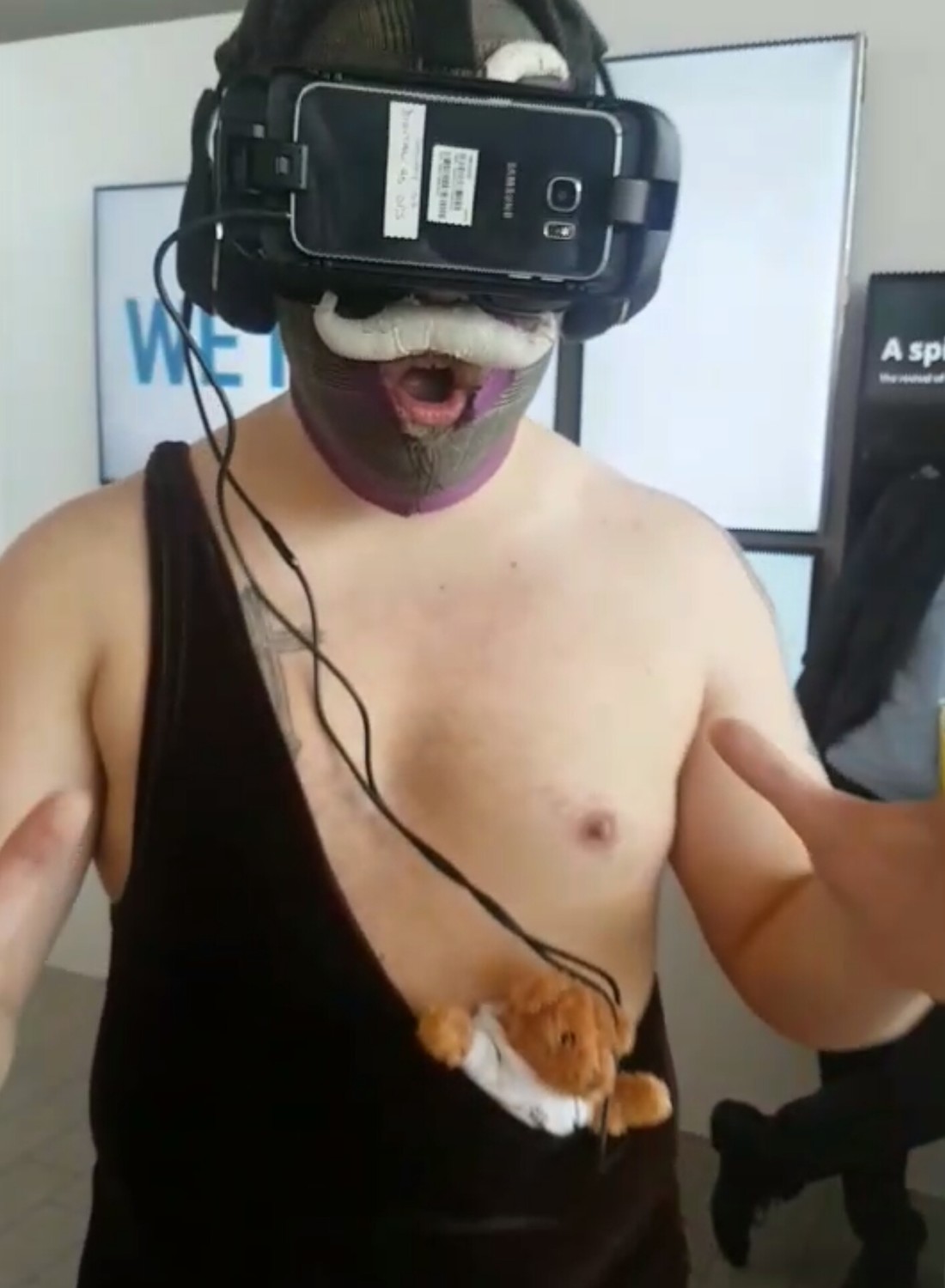 So, back to reality reality. We had lots of brand managers approach us and ask us if they might be able to work with us to create a similar experience for their brand. "No problem", I responded. But when further quizzed about what they want to capture in 360, what their distribution strategy would be and how they would set objectives and track success, the enthusiasm for the sexy new format waned somewhat.

Which, I suppose, is me doing my selling job appallingly poorly. But also a reflection that, despite the sexiness of the 360 world they could create for their brand, a lot of thought, planning and smart distribution strategy needs to back-up any brand plan to advertise across a new format.

So, I would give the following advice to any brand looking to jump into VR as an advertising platform:

Ensure your brand has a captivating story to tell, one that can best be conveyed in a 360 immersive story. Don't use the format for the sake of it. Please.
Be willing to spend on the creativity involved. The equipment and expertise involved in capturing and editing a really high-quality Virtual (or Augmented or Mixed) Reality experience does not come cheap. Not extortionate either, but please realise that using cheap 360 camera or smartphone plug-ins are going to do your brand no favours. As a rough guide, be prepared to spend at least €10,000 on a single execution. As with anything, after that, the more you spend the better the impact. In the right hands.

Have a clearly thought-through distribution strategy. At the moment, the most common distribution for most brands is in small numbers at expos, events and in retail situations. This allows you to provide the appropriate equipment (don't expect people to rock up with their own Gear headset) and the properly controlled environment to answer any questions they may have. However, mass distribution is possible by piggy-backing on an existing distribution network using more affordable equipment like Google Cardboard.

Realistically, your key objectives for any initial foray into Virtual Reality should be based on brand awareness and uplift. As yet, Virtual Reality is not a key driver for direct response activity but I'm sure that will change as the format gets more sophisticated.
In saying the above, some sectors are absolutely perfect for branded VR executions. Travel and tourism is a no brainer. As are events - from a fan's-eye view of sporting occasions to an intimate session with Paul McCartney. (h/t to JauntVR, who create stunning VR experiences).

Brands are definitely keen to embrace VR. But they are not necessarily ready. A key driver behind that is that their potential customers have not yet embraced VR with the gusto that may have been predicted at the start of 2016. With Facebook and YouTube throwing their weight behind 360 video, there was definitely an inflexion point last year in the rise of popularity of 360 video and VR - but until tech improvements made headsets more affordable for the masses, brand executions will remain in the domain of the early adopter.